Assembly and Association in the Digital Era
PUBLISHED: JUNE 2019
On June 12, 2019, UN Special Rapporteur Clement Voule issued a report (A/HRC/41/41) on the rights to freedom of peaceful assembly and association in the digital era. As technology plays an increasingly vital role in the freedom of assembly and association, the Special Rapporteur finds that many governments are not fulfilling their obligations under international law. In fact, government measures restricting online space have become all too common. Furthermore, technology companies act as gatekeepers to people's ability to exercise these rights, creating new issues. The report addresses these challenges, with a focus on developing guidance to preserve and expand the digital civic space.
ICNL was pleased to support to UNSR Voule on a series of consultations with civil society organizations around the world, as well as extensive research, in preparation of the report. An unofficial summary of the report follows.
BEYOND INDIVIDUALS: TECHNOLOGY FOR COLLECTIVE ACTION
Technology is Integral to Association & Assembly
The critical role digital technology plays in freedom of expression has been extensively debated and documented. It is hard to imagine making a case for free and open expression that does not include access to an open digital space. In his new report, the Special Rapporteur outlines how digital technology has become equally integral to the exercise of the rights of peaceful assembly and association. By serving as both a tool and a space, civil society is able leverage digital technology to advance human rights and innovate for social change. These platforms have become crucial tools for mobilization and collective action as well as virtual spaces where marginalized groups that face severe restrictions to operating in physical places can form online assemblies and associations.
assemblies and associations.
DIGITAL CIVIC SPACE UNDER INCREASING CONTROL
Many Governments are Increasing their Control over Digital Technology
Despite the importance of digital technology for the enjoyment and exercise human rights, the Special Rapporteur finds that many states increasingly restrict fundamental freedoms by controlling the access and use of internet and other digital tools. He finds that "laws that criminalize online content continue to proliferate, leading to a chilling effect on advocacy and mobilization. Numerous governments have resorted to shutting down access to communications networks and services during elections and public demonstrations, and blocking websites, including human rights organizations. Demonstrating a sophisticated grasp of emerging technical tools, some States – and malicious third-party actors – have increased the use of digital surveillance and online harassment against civil society actors, human rights defenders, opposition political leaders and those who plan to stage peaceful public assemblies". These measures risk eliminating the new digital space in which individuals and civil society actors can work together to pursue common goals.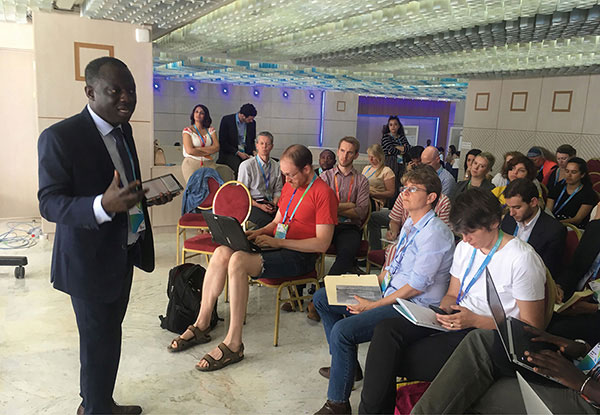 THE ROLE OF THE PRIVATE SECTOR
Digital Technology Companies can Create and Exacerbate Risks
Digital technology companies, particularly social media companies, have become gatekeepers, controlling people's ability to exercise assembly and association rights online. The role these companies play has created new risks or exacerbated challenges. The Special Rapporteur finds that these platforms' policies and algorithms may undermine the rights to freedom of peaceful assembly and of association, despite some attempts at improvements. The Special Rapporteur is particularly concerned that social media's content policies seem to affect those with a public profile in a disproportionate manner, placing activists and those calling for mass mobilization at risk of facing arbitrary content removal and account suspension or deactivation. Compounding this problem is social media companies' increasing use of algorithmic systems to flag content for takedown and determine findability. In the words of the Special Rapporteur: "Algorithmic systems have the power to silence stories and movements, prevent civil society actors from reaching a wider audience, and reinforce echo chambers or reproduce bias and discrimination, to the detriment of democratic development. These measures can also have a disproportionate effect on already marginalized or at-risk groups."
A PROTECTED RIGHT IN THE PRESENT AND IN THE FUTURE
International Law Protects Association & Assembly Online and Offline
Fortunately, there is a framework in place to protect freedom of assembly and association in the digital era. The Special Rapporteur asserts that international law protects these rights, "whether exercised in person, through technologies of today, or through technologies of the future". As such, the existing framework international human rights norms and principles should dictate state conduct, as well as guide technology companies' design and governance of digital technologies. This means that standards of legality, necessity and legitimacy should be applicable to all companies' decisions that affect peaceful assembly and association rights.
RECOMMENDATIONS
States should comply with the commitments they made to uphold international law:
They need to ensure that the rights of peaceful assembly and association are respected, protected and implemented in national legal frameworks, policies and practices, in accordance with international law. Particular attention should be paid to the disparate impact that limitations on access to and use of digital technologies can have on racial and religious minorities, political opponents and activists, and lesbian, gay, bisexual, transgender and intersex persons.
States should create an enabling legal framework for the right to peaceful assembly and association in the digital age.
States should refrain from, and cease, measures such as cutting off access to the Internet and telecommunications services. Access to Internet and mobile services should be maintained at all times, including during times of civil unrest.
States should end all acts of government-sponsored online trolling, intimidation and disinformation targeted at civil society actors. States should investigate these acts, provide effective remedies, and adopt and implement preventive measures.
States should duly implement their duty to protect against abuses of the rights to freedom of peaceful assembly and of association by business enterprises by taking appropriate steps to prevent, investigate, punish and redress such abuse through effective policies, legislation, regulations and adjudication.
Digital technology companies must commit to respect freedoms of peaceful assembly and association and carry out due diligence to ensure that they do not cause, contribute to or become complicit in violation of these rights. The effective implementation of the Guiding Principles on Business and Human Rights should be a priority for these companies. Policy commitments to respect peaceful assembly and association rights (in addition to existing commitments to respect freedom of expression and privacy rights) should be the starting point.
All civil society groups, not just digital rights organizations, should be engaged in the process of understanding digital threats to civic space and developing effective responses to threats.