A New Voice in the UN: Clément Nyaletsossi Voule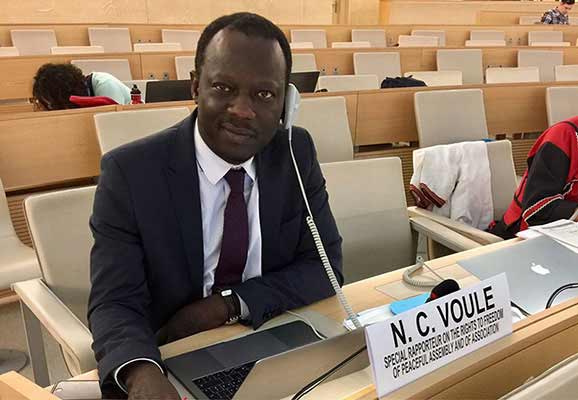 ICNL actively engages with the United Nations (UN) to enhance international norms, including the UN Special Rapporteur (UNSR) on the rights to freedom of peaceful assembly and of association.
In March 2018, ICNL and ECNL welcomed the appointment of Clément Nyaletsossi Voule as the new UN Special Rapporteur on these rights, and we reaffirmed our commitment to supporting
the mandate.
UNSR Voule has hit the ground running. With ICNL's assistance, he convened three civil society consultations within the first three months of his term. The consultations gave him the opportunity to hear from civil society in mapping his mandate's priorities.
In July, UNSR Voule submitted his report to the UN Human Rights Council on his vision for the mandate. Recently, we worked together on his first report to the UN General Assembly, which focused on the Sustainable Development Goals and the rights to peaceful assembly and association. As with his predecessors, ICNL will provide research and other support throughout UNSR Voule's term.
Published: November 2018
This story is the second in a series of stories from our 2017-2018 Annual Report: Strengthening the Fabric of Communities. Each story in the report shows how one of ICNL's five goals comes to life.