Navigating COVID in Kyrgyzstan
EURASIA PROGRAM
COVID hit Kyrgyzstan hard, overwhelming an already fragile healthcare system. There was a shortage of essential workers, medical equipment was difficult to access, and vital services were unable to reach those in need.
In the face of these challenges, Elim Barsynby, a charitable foundation in Bishkek, assembled a large-scale volunteer movement to support the local community. It raised funds, solicited donations, transported patients to hospitals, and supplied food to medical staff working long shifts.
To meet the need for oxygen and life-saving medicine, Elim Barsynby had to import items from abroad, and quickly. To do so, however, it needed to navigate unfamiliar laws, regulations, and procedures. These challenges threatened to slow down its response to the growing crisis. Time was running out, but Kanykei Sharapova, Elim Barsynby's attorney, knew where to find help.
With ICNL's assistance, Sharapova was able to streamline the organization's ability to receive aid by working through the medical supply distribution process and the bottlenecks of import and customs documentation. Armed with knowledge on how to navigate import and customs regulations, Elim Barsynby was able to document equipment and medicine orders as humanitarian freight. This allowed them to be exempt from customs payments and distribute supplies in accordance with the law.
Sharapova's commitment to ensuring that the organization's work was transparent and efficient assured people and businesses that they could trust the charity with their donations. Many local entrepreneurs started reaching out during the nation-wide lockdown, providing much needed financial support.
The impact of Elim Barsynby's work demonstrates the critical role civil society plays in responding to global crises, both current and future.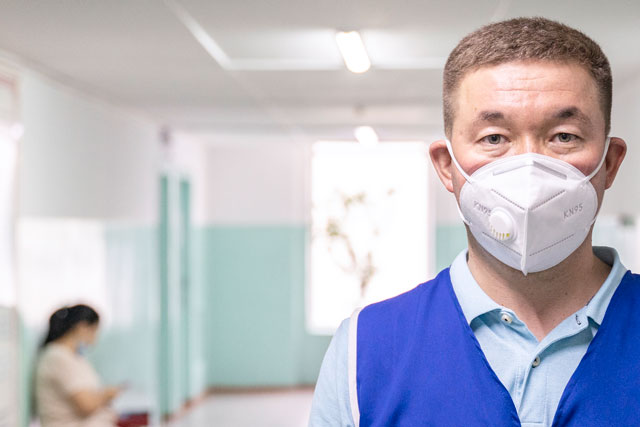 About Elim Barsynby
Elim Barsynby was established in 2008 and supports low-income families and individuals, the seriously ill, disabled, and other vulnerable groups during economic and social crises.
When COVID hit, the organization went into overdrive, with volunteers handling hundreds of calls around the clock from people desperately in need of assistance.
With help from ICNL, Elim Barsynby was able to quickly acquire vital aid for hospitals and medical staff countrywide, including 60 oxygen concentrators, 500 pulse oximeters, 2,000 protective suits, and 10,000 bags of groceries.
This story is from our 2020-2021 Annual Report. Each story in the report shows how our partners across the world help protect and, where possible, expand civic space.