China Philanthropy Law Factsheet #3
Before & After 2016: A Deeper Dive – Tracking Changes in the Regulation of Overseas NGOs and Foundations in China
LAST UPDATED: AUGUST 2018
The year 2016 represents a watershed moment in the development of the legal environment for philanthropy and civil society in China.
In 2016 the National People's Congress adopted two comprehensive new laws to regulate the philanthropic and civil society space: the Charity Law passed in March and the Overseas Non-Governmental Organization (NGO) Law passed in April. Later in 2016 the Ministry of Civil Affairs issued for public comment the drafts of new regulations governing the registration and management of the three types of social organizations.
This factsheet highlights some of the key changes.
RELATED LINKS
For more information, see our China Philanthropy Law Report.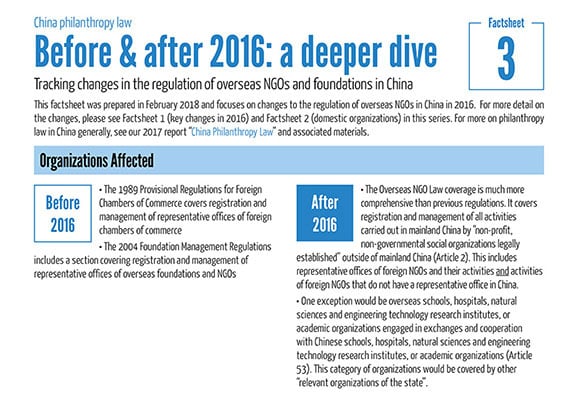 DOWNLOAD THE FACTSHEET