FAQ: Corporate Social Responsibility in India
PUBLISHED: APRIL 2018, UPDATED: APRIL 2020
The Indian Companies Act of 2013 makes Corporate Social Responsibility (CSR) compliance mandatory for any company, whether private; public; foreign; or even a nonprofit company registered under Section 8. Additionally, compliance is mandatory if the company has particular profit, turnover, or net-worth.
India is reportedly the only country in the world that mandates CSR by law. The Companies Act is regulated by the Ministry of Corporate Affairs and requires companies to formulate a clear policy on CSR and report annually on its CSR-related activities.
This FAQ answers some of the most common questions about CSR in India, with a focus on nonprofit compliance.
RELATED LINKS
More information about CSR in India can be found in our India Philanthropy Law Report.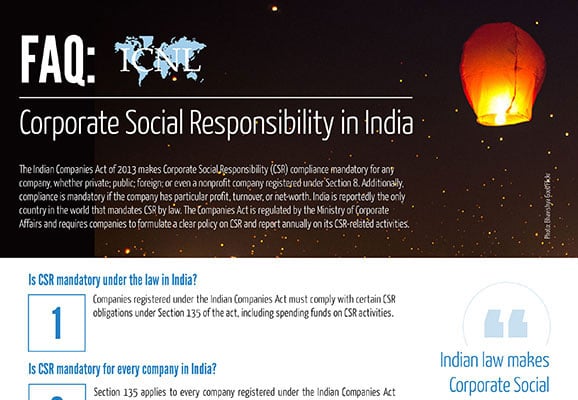 DOWNLOAD THE FAQ