Tear Gas, Rubber Bullets, and Sonic Weapons
Update: For more recent information see our tracking page on Reforms Introduced to Protect the Freedom of Assembly, which includes reforms introduced to restrict LLWs at the municipal, state, and federal level, and ICNL's briefer on Legislative Options to Restrict the Use of Less Lethal Weapons in Crowd Control.
Prohibiting "Less Lethal Weapons" at Protests
In response to nationwide protests over the killing of George Floyd, law enforcement officials frequently used so-called "less lethal weapons" (LLWs) on crowds and individuals. These weapons, which include tear gas, rubber bullets, and Long Range Acoustic Devices (LRADs), can cause serious physical and psychological harm. Protesters in Minneapolis, Denver, Dallas, and Sacramento were partially blinded after law enforcement shot them in the eyes with rubber bullets and other projectiles. In Washington D.C., law enforcement used tear gas to clear peaceful protesters from Lafayette Park in front of the White House. At least 97 other U.S. cities also used tear gas against protesters, despite warnings from public health experts that it can cause lasting lung damage and may exacerbate the spread of COVID-19.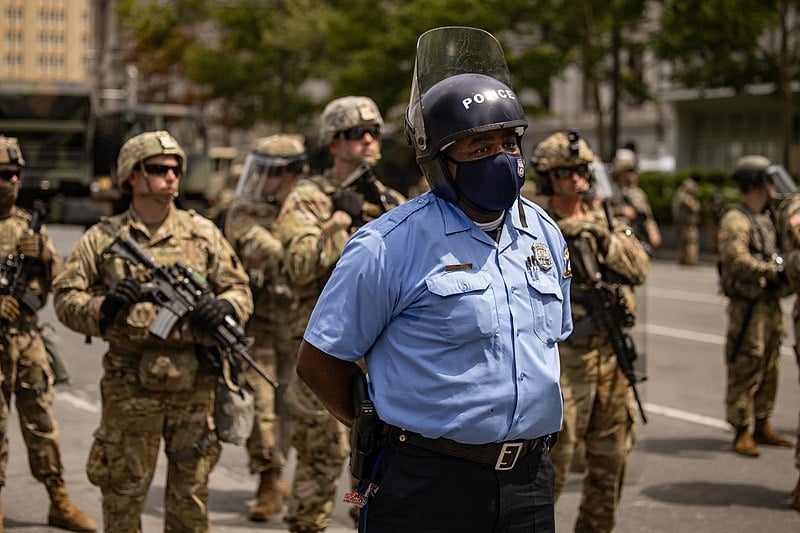 Growing public awareness of such incidents and the dangers posed by LLWs have led lawmakers across the country to ban or otherwise restrict the use of LLWs at protests. This briefer provides recommendations for banning the use of certain LLWs at protests, with examples of measures recently introduced and/or enacted in select jurisdictions. We plan to update this briefer as more such reforms are introduced.
Any use of less lethal weapons at First Amendment assemblies should be guided by the principles of necessity, proportionality, and non-discrimination. When used in the context of protests, certain types of less lethal weapons, like rubber bullets, tear gas, and sonic weapons, are indiscriminate by their very nature. These weapons should never be used to either police or disperse First Amendment assemblies. Law enforcement may disperse assemblies only in exceptional cases, following carefully delineated rules that among other things require giving a clearly audible order to disperse and providing an adequate opportunity for the crowd to comply.
BAN THE USE OF RUBBER BULLETS AND OTHER PROJECTILES AT PROTESTS
Rubber bullets and other projectiles should never be used to control crowds at a demonstration. When fired at protests, these weapons can seriously injure demonstrators and are difficult to adequately target. In recognition of these challenges, Washington D.C.'s City Council recently voted to ban the use of "less lethal projectiles" to disperse First Amendment assemblies and Seattle's City Council passed legislation that prohibits law enforcement from using "kinetic impact projectiles" for crowd control. The San Jose Police Department likewise recently banned the use of rubber bullets and other "projectile impact weapons" to disperse crowds. State and local officials in New York, Pennsylvania, Colorado, and California are considering similar bans.
BAN THE USE OF TEAR GAS AND OTHER INDISCRIMINATE CHEMICAL IRRITANTS AT PROTESTS
The 1925 Geneva Protocol and the 1994 Chemical Weapons Convention prohibit the use of agents like tear gas in warfare, yet they remain a tool for many US law enforcement agencies. When deployed via large-scale canisters or through grenades, tear gas and other chemical irritants such as pepper spray can do indiscriminate harm, and as such are an inappropriate response to protests. To address these concerns, Washington D.C.'s City Council recently passed legislation that bans the use of tear gas or other chemical irritants to disperse First Amendment assemblies. Seattle's City Council banned the use of chemical irritants for crowd dispersal, Charlotte's City Council blocked funding for tear gas for the coming year, and Portland's mayor banned CS gas, a common form of tear gas (except for use in life-threatening situations). New York lawmakers have introduced at least four bills that prohibit the use of tear gas and similar chemical irritants by law enforcement (A10599, S8512, S8514, and S8516), while Massachusetts lawmakers have called for a ban on tear gas and pepper spray during the COVID-19 pandemic.
Police also frequently use hand-held pepper spray against individuals at close range. These devices should never be used indiscriminately against protesters, and law enforcement should be trained on the narrow set of situations in which they can be used.
BAN THE USE OF LONG RANGE ACOUSTIC DEVICES (LRADS) AGAINST PROTESTERS
LRADs, or "sound cannons," can be used as a sonic weapon by emitting loud and painful levels of noise. They can cause long-term and even permanent hearing loss and can have an indiscriminate effect such that nonviolent protesters and bystanders may be affected. Human rights advocates have called for a suspension on their use to police crowds until their effects are better studied. In Seattle, the City Council banned the use of acoustic weapons against crowds and in Portland, the mayor recently directed police to only use LRAD as a communication device and to not use their "sonic warning tone" against crowds.
Last Updated: June 17, 2020
For more information contact Nick Robinson at nrobinson@icnl.org or Elly Page at epage@icnl.org.