Protecting Peaceful Protest in the United States
In May of 2020, during the early months of the COVID-19 pandemic, protests over the killing of George Floyd exploded across the United States and grew into a nationwide movement for racial justice and against police violence.
Protesters were often met with an aggressive and militarized response by law enforcement. Over half the states deployed their National Guards. Meanwhile, in 100 cities police fired tear gas and rubber bullets into crowds, causing injuries and maiming dozens. Health professionals criticized the widespread use of tear gas as it can exacerbate the effects of COVID-19.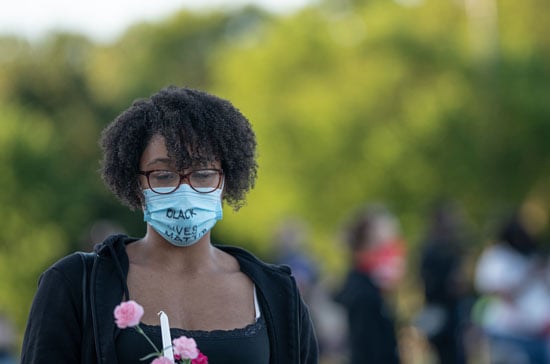 This heavy-handed response stems from a larger pattern. Since 2017, ICNL has been tracking proposed state and federal laws that restrict the right to assembly. We have seen a growth in government actions targeting demonstrators. For example, police have surveilled peaceful protest movements and states have enacted draconian penalties for blocking traffic. These practices make it more dangerous to exercise the fundamental right to assemble and often escalate tensions between law enforcement and the public.
To respond to this evolving situation, ICNL helped lead a coalition of groups working to protect the freedom of assembly. We listened to our partners' needs and reacted quickly by producing in-depth analyses and resources, including a briefer calling for prohibiting the use of certain less lethal weapons, such as tear gas, rubber bullets, and sonic weapons, during protests. We also created a dynamic online resource that tracks new initiatives at the local, state, and federal level to better protect assembly rights. These resources have been utilized in successful advocacy efforts and featured in the national press.
Our partners were able to use these tools to protect freedom of assembly, improve policing of protests, and navigate the COVID-19 response. Oregon, Colorado, and Washington DC have adopted new restrictions on less lethal weapons at protests; New York state and Washington DC repealed their anti-face mask laws; and Washington DC and Virginia have prohibited the transfer of certain military grade equipment from the federal government to local law enforcement.
This story is from our 2019-2020 Annual Report. Each story in the report shows how our partners across the world help protect and, where possible, expand civic space.