Fundraising Dos and Don'ts in Dubai
PUBLISHED: AUGUST 2018
The legal system in the United Arab Emirates ("UAE") is based on the civil law system, with Islamic Shari'ah law serving as the primary source of legislation. While the Ministry of Social Affairs regulates philanthropic organizations at the federal level, such organizations are in most cases also subject to emirate-level regulation. The emirate of Dubai has the most robust regulations, which govern organizations operating in Dubai and its free trade zones.
This factsheet outlines a series of dos and don'ts for philanthropic organizations engaged in fundraising in the emirate of Dubai.
RELATED LINKS
More information about the environment for civil society and philanthropy in the United Arab Emirates can be found in our UAE Philanthropy Law Report.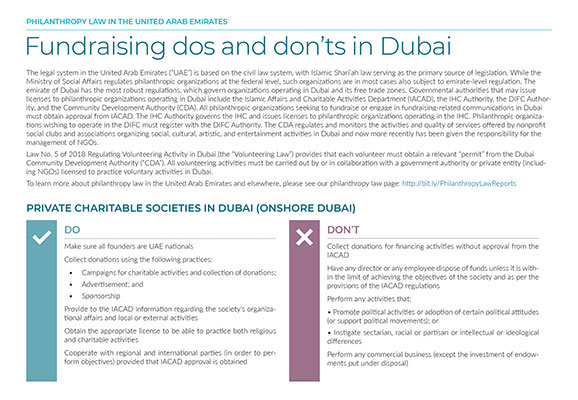 DOWNLOAD THE FACTSHEET